Cold Laser Therapy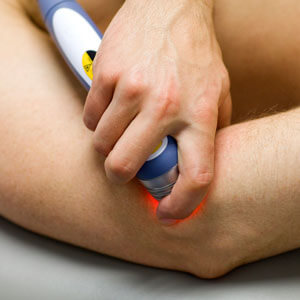 Cold Laser Therapy, also known as Low Level Laser Therapy (LLLT), helps to penetrate light deep into your problem areas and tissues, helping to reduce pain, inflammation and stimulate collagen.
Cold Laser Therapy is ideal for acute injuries, but can also be used on patients experiencing chronic problems.
In the practice, Dr. Christine makes Cold Laser Therapy available for all patients who need it, with no extra fee as it's included in your chiropractic appointment. This therapy is ideal for patients of all walks of life-in fact, she estimates using it on about 90% of patients in the practice because it's extremely gentle yet provides amazing results.
How Does It Work?
Cold Laser Therapy works by placing the handheld device over the problem or injured area for up to a few minutes. While the therapy takes place, non-thermal photons of light pass through your skin, penetrating up to 5 inches below the surface. The laser light is then absorbed into your injured cells, helping to repair damaged tissue and reduce pain as well as inflammation.
The best part? The process is entirely pain free.
Excellent Care for Athletes
Dr. Christine often uses the cold laser system on athletes to help get them back in the game, quicker. In fact, when she travels with her own daughter for dance competitions, she'll use the cold laser on dancers who sustain injuries during a performance or practice. It's her belief that getting the cold laser on an injury within 24 hours greatly helps recovery.
If you're an athlete, we'd love to see you in the practice so you can give it a try.
Schedule Your Visit
Ready to find out how care with our cold laser may help you? We'd love to see you in the practice and discuss all of the wonderful therapies we offer. Learn more and get started today by booking an appointment with Dr. Christine-she can't wait to welcome you into the practice.
CONTACT US »

Laser Therapy Markham, Greensborough, Unionville ON | (905) 471-2225