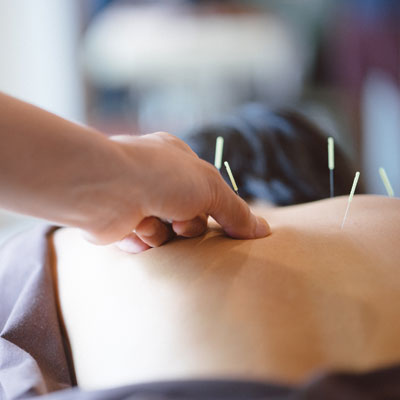 Acupuncture
At the practice, Dr. Christine enjoys helping patients of all walks of life experience the benefits of a wide variety of natural healing.
One modality she's proud to offer is acupuncture, a form of natural healing that has been used for thousands of years and has its roots in ancient Chinese medicine.
Acupuncture involves placing thin, small needles into various problem points of your body to realign your "chi", also known as your energy and balance force.
When your chi is aligned, your body may be able to heal better, and even help reduce inflammation as well as other problems you experience. The best part? Acupuncture is not painful—if you're scared or nervous about acupuncture, Dr. Christine will explain the entire process to you to ease your concerns. Ultimately, whether or not you'd like to give it a try is up to you!
Many of our patients have experienced benefits including:

Reduced muscle spasms
Improved tendonitis
Quicker healing from sprains and strains
Reduced muscle tension
Headache management
Improvement in pain levels
Dr. Christine offers acupuncture to any patients that would like to try it, and to those who she believes may benefit from the therapy. Acupuncture is offered in the practice as a part of your chiropractic service, so if you're under chiropractic care with us, your acupuncture session will be included for no additional charge.
Acupuncture is ideal for patients of all walks of life, from adults to the elderly and athletes.
Schedule Your Appointment
Dr. Christine would love the chance to welcome you into our practice. If you'd like to learn more about our offerings and how focused chiropractic care and acupuncture may benefit you, please, contact us to book an appointment today.
We look forward to learning about your goals in health—and helping you achieve them.
CONTACT US »

Acupuncture Markham, Greensborough, Unionville ON | (905) 471-2225