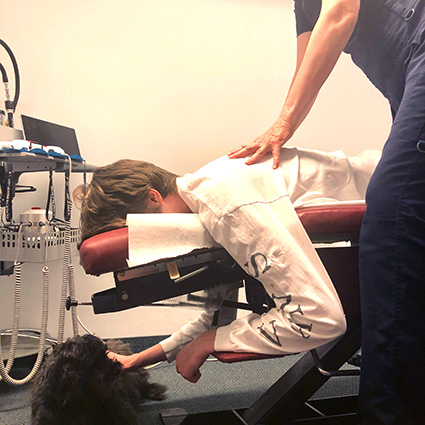 Chiropractic Care
Dr. Christine is passionate about helping patients of all walks of life get their health back on track with focused, specific and gentle chiropractic care.
At Dr. Christine Garrity, there's something for everyone—whether you're an adult seeking care for yourself, a new parent who'd like to have their child's spine checked, or a senior citizen who wants to add more life to your years.
What is Chiropractic Care?
Chiropractic care is an all-natural way to help keep your body functioning exactly as it was designed. Dr. Christine likes to help patients understand the power of the spine and the role that it plays in the body.
Your spine is responsible for helping your brain and every other organ inside of you communicate properly. When your spine and nervous system experience interference, like stress, that's when problems can occur and result in experiencing unpleasant symptoms—which may include things like:
Pain
Difficulty moving
Headaches
Stress and anxiety
Stiff muscles and joints
Plantar fasciitis
Knee and hip problems
Shoulder tendonitis
And more
When you choose Dr. Christine for your chiropractic care, she'll incorporate spinal adjustments that come in a variety of techniques to best fit your needs. She'll also aim to mobilize your joints and do stretches as well as massages to get your body moving. Your spinal adjustment may be a manual, hands on method or with "Frank", our gentle, computer aided instrument.
Don't worry—adjustments are not painful, and most of our patients find them extremely relaxing! It's our goal that you feel better upon leaving the practice than you did when you arrived for your visit.
Schedule Your Visit
We'd love to welcome you into our practice, and look forward to learning more about your goals in health. If you'd like to learn more about how focused chiropractic care can help you live your best life yet, contact Dr. Christine today to book an appointment.
We can't wait to get started.
CONTACT US »

Chiropractic Care | (905) 471-2225